ALL ORDERS OVER $400.00* SHIPS FOR FREE! (*before tax/s & h)
AMEX/MasterCard/VISA/PayPal
Free Samples with each order! * Inspirational postcards in each order!  * Beautiful prayer cards in each order!
No International Shipping!
We ship to the Continental Unites States, Alaska, Hawaii, Canada and Puerto Rico only!  

We do not ship to any country outside the Unites States except in the line above.
* * * * * * *
 Absolutely Discreet Shipping Labels!   No identifying information for nosy neighbors!
* Quick Shipping! Most orders ship within 24-48 hours! ** Shipping 6 days a week with US Postal Service
"You did an amazing on my order! It got to me so fast. I ordered Sunday night and I received the order on Wednesday. It was such a blessing to know I have a resource to get spiritual products I need so quickly. You will have a return customer here. Thank you sooooo much! Blessings," –  T.
SHIPPING ORDERS – within the United States, Alaska, Hawaii, Canada and Puerto Rico
For any and all Lucky 13 Clover orders within the Continental United States, Alaska, Hawaii, Canada, and Puerto Rico, we ship using Priority Mail with the United States Post Office. All orders can be tracked with Delivery Confirmation online and we do not ask for a signature of receipt.  All orders totaling over $5.00 will automatically be insured through the United States Postal Service. The shipping is built right in our ordering system so no need to do additional calculations.
For shipping to Canada and/or Puerto Rico, we may use alternate shipping companies.
Your box will be placed on the porch of your house. Our shipping labels instruct the Postman to deliver all packages addressed to apartments to the Manager's Office (if possible). Once your package is delivered (tracked online with www.usps.com), it is your responsibility to get it into your house as we cannot insure your products will not be taken off your porch.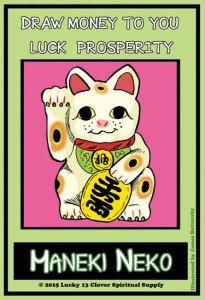 Our responsibility for your package is finished when we release it to the United States Postal Service.  As I can track and follow your package through to delivery at your door, if your package is damaged or lost, you will need to take said information you print off the Internet to the post office to file a damaged or lost claim for refund. Please make sure there is someone to receive your package on the day it is to arrive. You can make arrangements by checking delivery date through the USPS website once we ship and send you a delivery confirmation number to your e-mail.
INSURANCE
Any order valued at over $5.00 will be insured with the United States Post Office. If damage occurs in the transport of your order, you must file a claim online with the United States Postal Service for refund. Lucky 13 Clover does not file the claim for you. Please follow their instructions to file a claim.
ORDER CANCELLATION
Any order that has completed the payment process and is in processing then cancelled for any reason will be subjected to a $3.00 service fee that will be deducted from your order total before refund. This is a charge that I incur and I pass on to you. Please be certain that you want the items you order before submitting order for payment.
We no longer refund for packages returned as we cannot guarantee their freshness and quality as the same as when it left our store. Please make absolutely sure of your current mailing address is correct as we can no long issue refunds for returned packages. Please make sure you absolutely want your items as once the order has left our shop, it is yours.
FOR INTERNATIONAL SHIPPING
NOTE:

WE NO LONGER SHIP INTERNATIONALLY AS OF 09/2015
It is understood by Lucky 13 Clover that it is frustrating that we do not ship internationally, but the reason behind this is that we cannot insure the product gets delivered in one piece or delivered AT ALL, because of poor responsibility in delivering the mail in other countries.
You may order something to have brought to you by personal friend or family member, but we are not responsible for the reliability of that friend and/or family member getting your product to you. We are insuring your package gets to your human transport person, but aFter that, we are not responsible. USING A FRIEND OR FAMILY TO BRING LUCKY 13 CLOVER PRODUCTS TO YOU IS NOT OUR RESPONSIBILITY IF ITEM(S) ARE LOST OR DESTROYED.
** Most of our orders ship within 24 hours with the exception of custom orders (mojo bags) or if we are closed for Saturday. Sunday, holidays, or private events