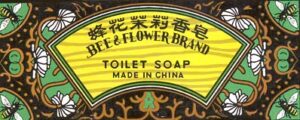 Bee and Flower Chinese Soaps have been a classic high quality bathing bar for many generations. Each small, high quality bar is hard milled for long-lasting lather and scented with the traditional essences used in Southern Hoodoo magic. Wrapped in floral printed paper and closed with embossed metallic seal stickers, opening the package is almost as fun as a birthday surprise.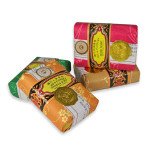 * Bee and Flower Rose Soap – The rose is considered the classic flower for love, and the essences of rose is used in all love drawing products. Men are especially attracted to this delicate scent, so use this soap when you want to bring that special someone closer to you.
* Bee and Flower Ginseng Soap – Ginseng root is traditionally held as having a masculine nature, therefore it is used in "manly" magical products to promote virility and male sexual nature. Use just the same as John the Conqueror or Nature spiritual products.
* Bee and Flower Sandalwood Soap – Sandalwood, an ancient essence traditionally known for its peace-bring and calming properties, is used when you need to surround yourself with comfort, care and peace. Use as you would Peaceful Home products
* Bee and Flower Jasmine Soap – Jasmine is an essential oil that is traditionally associated with all things regarding psychic visions and spiritual gifts. Use just the same as products that promote spiritual contact, clairvoyance, clairaudience or any other means of spiritual contact or gifts.
Please note: The legend, lore and usage of each product listed for sale at Lucky 13 Clover Spiritual Supply is
listed on each page. Please visit our site and educate yourself in the products before ordering as we do not give
free product consultations over the phone.