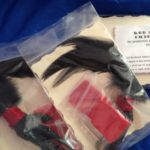 Lucky 13 Clover Black & Red Chicken Foot Kit – $7.00
In Southern folkloric belief, chicken feet are used to aid and assist in the protection of your personal belongings, your home, your car or anything that belongs to you. In addition, chicken feet are also employed when you want to leave them where the intended "victim" will handle them or cross their path.
Tradition states that the chicken's foot works by magically "scratching" the offender with it's nails. It is a warning to those who would do you wrong. It is a message that if the offender is considering trying anything with you, such as a "jinx" or to try to trick you, you are ready to hurt them in a way they have never known. This belief is very real and is exhibited in the movie "Angel Heart" (1987), when Harry/Johnny (played by Mickey Rourke) is trying to talk to blues guitarist "Toots Suite", a former bandmate of Johnny, a chicken foot appears in the movie. In the scene with the chicken foot, Toots goes to the bathroom with Harry/Johnny in pursuit, and after a heated conversation with him, turns back to the urinal and sees the chicken foot there. Toots beats a hasty retreat from the bathroom, telling Harry/Johnny to go seek information elsewhere. Toots realized that he was 'being warned' to keep quiet or else.
This chicken foot comes with a piece of red cloth to tie certain herbs, roots and other materials in to aid in delivering the "message" or for protection. Red string is enclosed to tie the fabric up, and a vial of Protection Oil is included if the chicken foot is to be displayed as a warning to leave your car or home alone. Additional details for this usage is included in the packet.
Please note: The legend, lore and usage of each product listed for sale at Lucky 13 Clover Spiritual Supply is listed on each page. Please visit our site and educate yourself in the products before ordering as we do not give free product consultations over the phone.