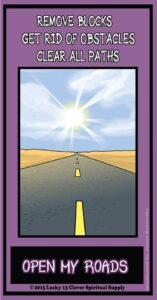 Lucky 13 Clover Open My Roads Candle Kit
"I can see clearly now the rain is gone. I can see all obstacles in my way." – Johnny Nash
The Lucky 13 Clover Open My Roads Candle and Kit is used when it seems that despite your best efforts and intentions, no forward movement in your life or in the situation at hand is in sight and one road block after another keeps you from success.
The image on the candle is one of a smooth, straight road with no hidden issues to deal with as you move down the highway. Just smooth going to a bright new future. The Sun is bright as a star in the blue sky and puffy white clouds indicate "good weather ahead".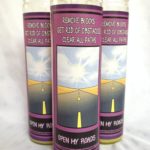 Uses for the Lucky 13 Clover Open My Roads Candle:
* Light when you feel "blocked" or when you feel like you cannot progress forward
* Burn this candle to aid and support a new endeavor so that all will be smooth
* When you feel like you are "hitting a wall"
The Lucky 13 Clover Open My Roads Candle Kit has one yellow candle, an application of oil and complete instructions to burn this candle to aid and support you in your love relationship needs.
The Lucky 13 Clover Open My Roads Candle can be purchased in a kit only.
Burn candle within sight, never leaving candle unattended or near anything that would catch fire. Keep away from drafts. Place on a stable, heat-resistant surface. Do not touch or move candle while burning or when it is hot to the touch. Keep wick centered in glass and trimmed to within 1/4 inch of wax to prevent excessive flame or smoke. Do not let wick trimmings or other debris drop into wax.
Please note: The legend, lore and usage of each product listed for sale at Lucky 13 Clover Spiritual Supply is listed on each page. Please visit our site and educate yourself in the products before ordering as we do not give free product consultations over the phone.