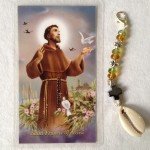 Saint Francis/Orula Protection Charm – $9.00
The St. Francis Orula Protection Charm can be carried on your person or in your car when traveling. This charm is to protect you as you make choices on important decisions. A beautiful laminated full-color St. Francis prayer card accompanies the charm for prayerful protection.
NOTE: This item has not been ritually blessed in ceremony and is not considered a ritual item
Please note: The legend, lore and usage of each product listed for sale at Lucky 13 Clover Spiritual Supply is listed on each page. Please visit our site and educate yourself in the products before ordering as we do not give free product consultations over the phone.