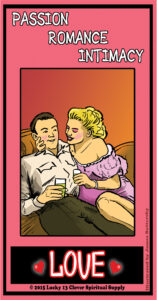 Lucky 13 Clover Love Candle and Kit
"Open your heart to me, baby, I hold the lock and you hold the key." – Madonna
The Lucky 13 Clover Spiritual Supply Love Candle Kit is used to aid and assist in attracting and maintaining a long-lasting love relationship.
Uses for the Lucky 13 Clover Love Candle:
* When you are ready for a new relationship and have no suitable candidates
* Burn once you have met someone to your liking to aid in further enhancing the newly found friendship
* Burn to assist in deepening a current relationship so that it will get more serious for the both of you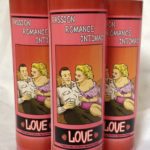 The image of the Lucky 13 Clover Love Candle is of a young couple relaxing with their favorite beverage and sharing closeness as the beautiful blonde gently caresses the gentleman's neck and ear lobe. The smiles on their faces are warm and receptive, and a kiss is not too far behind.
This image was created with the idea in mind that when you are creating a candle ritual, you want to use all products that will give you a 'mental picture' that you can carry in your mind as you chant or pray your heart's desire as your candle burns to aid and assist in bring to you your one true love.
The Lucky 13 Clover Love Candle Kit has one pink candle, an application of oil, and complete instructions to burn this candle to aid and support you in your love relationship needs.
The Lucky 13 Clover Love Candle can be purchased in a kit or as a candle only.
Burn candle within sight, never leaving candle unattended or near anything that would catch fire. Keep away from drafts. Place on a stable, heat-resistant surface. Do not touch or move candle while burning or when it is hot to the touch. Keep wick centered in glass and trimmed to within 1/4 inch of wax to prevent excessive flame or smoke. Do not let wick trimmings or other debris drop into wax.
Please note: The legend, lore and usage of each product listed for sale at Lucky 13 Clover Spiritual Supply is listed on each page. Please visit our site and educate yourself in the products before ordering as we do not give free product consultations over the phone.