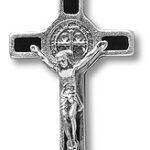 Saint Benedict Protection from Evil Crucifix –  medium   $12.00
The St. Benedict Crucifix comes with a prayer card that is in Latin and in English to banish evil and aid in protecting a home or person being chased by evil.
Please note: The legend, lore and usage of each product listed for sale at Lucky 13 Clover Spiritual Supply is
listed on each page. Please visit our site and educate yourself in the products before ordering as we do not give free product consultations over the phone.
(0017)