Free Samples with each order! * Inspirational postcards in each order!  * Beautiful prayer cards in each order!
"If you are seeking success in your efforts regarding your career, line of work, education, or your performing talents, whether it is singing, dancing, acting, or some other form of entertainment, we highly recommend the Lucky 13 Clover Spiritual Supply products called Crown of Glory and Success. This traditional blend from an old Southern recipe, has the power to aid and assist when you are facing examinations, tests, or ability contests. They also help when you are auditioning for a part in a performance. Using these fine products before going to search for employment or when going to an interview, will fill you with confidence to achieve your dreams." – Lucky 13 Clover Spiritual Supply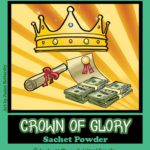 The images shown here are from the various products of Crown of Glory and Success from Lucky 13 Clover Spiritual Supply. The products, whether used with candles for a candle burning spell, or used on your person, are created from an old Southern recipe with herbs, roots, and essences traditionally held to aid and assist in attracting the proper type of attention for your endeavor. Like all the other Lucky 13 Clover products, we use natural oils, essences, herbs, roots, ad botanicals in a nut oil blend, so that the products can been deemed "all natural". We do not use synthetic fragrances in our products. The Crown of Glory and Success recipe is used for certain instances involving your success in education and advancement in school, the career of your dreams, and a profession in the performing arts.
USING LUCKY 13 CLOVER CROWN OF GLORY AND SUCCESS IN SPELLWORK
Spellwork can be created before you seek an interview or an audition when you want to bolster your confidence and create an aura of success and talent in the field you have chosen. There are many different ways to use Crown of Glory and Success products in many different ways. You may want to consider doing a spiritual bath with these products, before your interview, in order to start to layer the fragrance on you. After bathing, you might want to anoint yourself with the oil, as you burn a candle that has a little of the oil poured into the top of it, and with your desired outcome written on a slip of brown paper bag material that has been placed under the candle. You may want to lightly dust Lucky 13 Clover Crown of Glory and Success Sachet Powder over your job application or resume, making sure to shake off an residual powder, but leaving enough so that the reader will catch some on their hands. You may want to anoint your temples and brow with a drop of oil before heading out to that audition, making sure you prayer Psalm 23 ("The Lord is my Shepherd") before leaving the home.
We use nut oils in our products, which may include almond, sunflower, peach kernel, olive, and other nut oils, or a blend thereof, which may be of a concern for some who have allergies to such products. We do not use synthetic items in our products.
Please note: The legend, lore and usage of each product listed for sale at Lucky 13 Clover Spiritual Supply is listed on each page. Please visit our site and educate yourself in the products before ordering as we do not give free product consultations over the phone.