Free Samples with each order! * Inspirational postcards in each order!  * Beautiful prayer cards in each order!
"To desire a life in Prosperity, one must be mindful of Prosperity constantly. It is not a love of Prosperity but the love of what one can do with it. Using Prosperity products and rituals aid and assist in achieving Prosperity." – Lucky 13 Clover Spiritual Supply
Prosperity products are a line of spiritual products that comes from an old traditional Southern recipe and are used when one want to increase their financial holdings and work towards successful business ventures throughout their lives. Those seeking Prosperity can use money attracting spells for their own personal business, for their achievements while employed by another, banking, real estate, and investment gains, and all around general drawing in of good luck and fortune with all income streams coming to them. The image on the Lucky 13 Clover Prosperity products are banded stacks of greenback dollars in a heaping pile before you.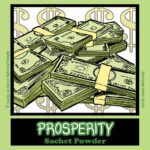 The label the demonstrates the imagery is the label from the Lucky 13 Clover Prosperity Sachet Powder packet available from Lucky 13 Clover Spiritual Supply.
All products in the Prosperity line at Lucky 13 Clover as produced with identical herbs and essences that are the base of the ingredients for the Lucky 13 Clover Prosperity Oil – used to anoint greenback dollar bills that are then circulated in the community to attract more dollars to come back to you, to anoint green Prosperity candles to burn in your business or in a ritual to increase funds into your bank account, personal mojo bags, and your hands before transactions at your place of business.
Lucky 13 Clover Prosperity products contain natural essential oils and herbs as we stay away from synthetic fregrances that are used in some cheaper hoodoo products on the market today. Some ingredients used in the Prosperity product line are Cinnamon and Vetiver, in addition to other plants and essences traditionally held to attract Prosperity.
Prosperity is a widely-known brand name for spiritual supplies for attracting additional money and income flow to you. It is closely related to other products such as Lucky 13 Clover Lucky Money products.
How to Use Lucky 13 Clover Prosperity Products
Using Lucky 13 Clover Prosperity products in ritual is uniquely and special unto you however, most old time practitioners use these products in accordance with recitations of Psalm 23 ("The Lord is My Shepherd"), as you focus on and hold the images what you desire in your mind.
* * * Psalm 23 * * *
The Lord is my shepherd; I shall not want.
He maketh me to lie down in green pastures:
he leadeth me beside the still waters.
He restoreth my soul:
he leadeth me in the paths of righteousness for his name's sake.
Yea, though I walk through the valley of the shadow of death,
I will fear no evil: for thou art with me;
thy rod and thy staff they comfort me.
Thou preparest a table before me in the presence of mine enemies:
thou anointest my head with oil; my cup runneth over.
Surely goodness and mercy shall follow me all the days of my life:
and I will dwell in the house of the Lord for ever. Amen.
Some of the fine Lucky 13 Clover Spiritual Supply Products:
Lucky 13 Clover Prosperity Oil 
To order, click here:
Lucky 13 Clover Spiritual Supply | Hoodoo and Conjure Curios
Lucky 13 Clover Sachet Powder
To order, click here:
Lucky 13 Clover Spiritual Supply | Hoodoo and Conjure Curios
We use nut oils in our products, which may include almond, sunflower, peach kernel, olive, and other nut oils, or a blend thereof, which may be of a concern for some who have allergies to such products. We do not use synthetic items in our products.
Please note: The legend, lore and usage of each product listed for sale at Lucky 13 Clover Spiritual Supply is listed on each page. Please visit our site and educate yourself in the products before ordering as we do not give free product consultations over the phone.