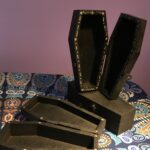 Black wooden coffins have been used to place a person's hair, fingernails, personal effects, photos and/or a small doll baby poppet baptized for the intended victim in order to leave or bury at the graveyard to curse.
The wooden coffin is 5 3/4 inches long and 2 3/4 inches at its widest part. It is painted in a black matte finish and has silver accent paint along rim. Decorative silver paint designs may vary.
Please note: The legend, lore and usage of each product listed for sale at Lucky 13 Clover Spiritual Supply is listed on each page. Please visit our site and educate yourself in the products before ordering as we do not give free product consultations over the phone.