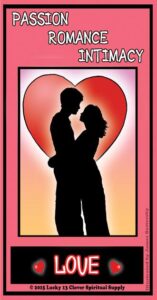 Lucky 13 Clover Love Silhouette Candle Kit
"All you need is Love. Love is all you need." – The Beatles
The Lucky 13 Clover Love Silhouette Candle Kit is used when you are ready to commit to one person and start making plans for a future together.
The image on the candle label shows a couple with their arms around each other in a close embrace. Their silhouettes are set against a background of a large red heart that glows around their image. Love is in the air, everywhere and all around.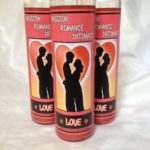 Uses for the Lucky 13 Clover Love Silhouette Candle:
* Burn continuously until your desired relationship materializes
* Light the candle when the two of  you will be together to enhance loving feelings towards each other
* Light a candle when you need to bolster an existing relationship to recreate the magic of love
To order a Lucky 13 Clover Anointing Oil to complete your ritual, please click here:
https://lucky13clover.com//store/products/lucky-13-clover-love-oil/
Burn candle within sight, never leaving candle unattended or near anything that would catch fire. Keep away from drafts. Place on a stable, heat-resistant surface. Do not touch or move candle while burning or when it is hot to the touch. Keep wick centered in glass and trimmed to within 1/4 inch of wax to prevent excessive flame or smoke. Do not let wick trimmings or other debris drop into wax.
Please note: The legend, lore and usage of each product listed for sale at Lucky 13 Clover Spiritual Supply is listed on each page. Please visit our site and educate yourself in the products before ordering as we do not give free product consultations over the phone.
.