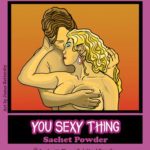 "I believe in miracles! Where you from, you sexy thing? Sexy thing you." – Wild Cherry
Lucky 13 Clover You Sexy Thing Sachet Powder is created with the intention to attract, enchant, and seduce that one person who is the most physically attractive to you. This fine sachet contains herbs, roots, flowers, and essential oils* in a all-natural base of rice flower for you to dust across your collar bones to aid and assist in successful outcomes to lovemaking.
The image on the label shows a couple in a state of undressing for an intimate encounter. His face is buried in the scent of her hair and she is drifting in the moment of desire and readily accepting his touch.
Uses for You Sexy Thing Sachet Powder:
* Dust between your breasts so the warmth of your body activates the essential oils
* Toss a pinch between the sheets to carry that magic to the bedroom
* Add to any personal mojo 'hand' or bag you carry to boost your sexual magnetic energy
Lucky 13 Clover You Sexy Thing Sachet Powder can be combined in use with You Sexy Thing Anointing Oil and candle. Both can be ordered through Lucky 13 Clover Spiritual Supply.
*We use nut oils in our products, which may include almond, sunflower,  peach kernel, olive, and other nut oils, or a blend thereof, which may be of a concern for some who have allergies to such products. We do not use synthetic items in our products.
Please note: The legend, lore and usage of each product listed for sale at Lucky 13 Clover Spiritual Supply is listed on each page. Please visit our site and educate yourself in the products before ordering as we do not give free product consultations over the phone.