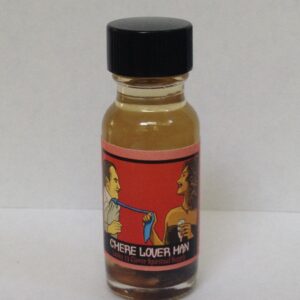 "Baby, Oohh baby! My sweet baby, You're the one" – Mickey and Sylvia

Lucky 13 Clover C'mere Lover Man Oil is used when you want to get the attention of a shy, reluctant, or unsure gentleman so he will understand exactly that a lovely female is desiring his advances and attention. Anointing a pink candle (for a soft approach) or a red candle (for a no-nonsense direct message) is suggested with the name of your "target" under the candle.
Uses for Lucky 13 Clover C'mere Lover Man Oil:
* When he get 'crossed signals' and cannot understand that you are definitely interested in him
* When your intended gentleman is hesitant to move forward into beginning a relationship with you
* To boost the effects of other love anointing oils to "drive home" the message of desirability.
To fashion a petition for your intended target, please read this article: http://www.free-candle-spells.com/2011/06/22/readers-question-how-to-create-a-honey-jar-petition/
We use nut oils in our products, which may include almond, sunflower, peach kernel, olive, and other nut oils, or a blend thereof, which may be of a concern for some who have allergies to such products. We do not use synthetic items in our products.
Please note: The legend, lore and usage of each product listed for sale at Lucky 13 Clover Spiritual Supply is listed on each page. Please visit our site and educate yourself in the products before ordering as we do not give free product consultations over the phone.