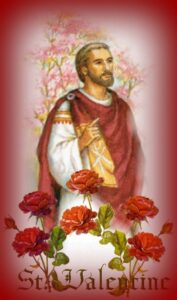 Lucky 13 Clover Pink St. Valentine Bring Me a New Love Candle Kit
Saint Valentine, the Patron Saint of Lovers, now has a candle devoted solely to the wondrous works he does to bring together those who love. The vintage looking label with a full color image of Saint Valentine on it on a rosy pink 7 day "novena" type vigil candle in glass, has a specially written prayer of petition to bring a love to you.
Uses for the Pink St. Valentine Bring Me a New Lover Candle:
* When you are ready to open your heart to a new love.
* To seek a suitor with the gentle qualities of a perfect romantic partner
* As a novena to St. Valentine on his feast day of February 14th.
The Pink St. Valentine Bring Me A New Lover Candle Kit contains vial of specialty blended anointing oil and complete instructions accompany the candle.
The Pink Saint Valentine Bring Me a New Love Candle is available in a kit as well as a candle only
This candle is a Lucky 13 Clover Spiritual Supply exclusive candle.
Read more about the St. valentine Candle spell by clicking this link: http://www.free-candle-spells.com//?s=+pink+st+valentine
Burn candle within sight, never leaving candle unattended or near anything that would catch fire. Keep away from drafts. Place on a stable, heat-resistant surface. Do not touch or move candle while burning or when it is hot to the touch. Keep wick centered in glass and trimmed to within 1/4 inch of wax to prevent excessive flame or smoke. Do not let wick trimmings or other debris drop into wax.
Please note: The legend, lore and usage of each product listed for sale at Lucky 13 Clover Spiritual Supply is listed on each page. Please visit our site and educate yourself in the products before ordering as we do not give free product consultations over the phone.