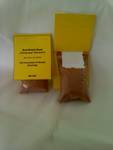 Lucky 13 Clover offers you Red Brick Dust to protect your home and business from those who want to do your harm.
Red Brick Dust, also known throughout the Southern United States as "reddening" or "red dust", is used for protection and to increase business when used in a floor scrub or wash. Traditionally, is is the ground up fire baked bricks from old buildings. In the movie "Skeleton Key", Kate Hudson, carries a large Mason jar of it and sprinkles it across the threshold of a room to keep Gina Rowlands from crossing over it to come to harm Hudson. This comes straight from traditional Southern style hoodoo and conjure. You can carry small packets of red brick dust to sprinkle on roots/tricks/jobs laid out for you in your path, such as a front porch or stoop, walkway, or in the driveway. Just simply open the 2 oz. packet and sprinkle over the trick laid for you, praying Psalm 23 "The Lord is My Shepherd" as you do. You can also protect your dwelling while away by sprinkling a line outside each front and back door to keep evil out.
Red Brick Dust is also used in a business scrub or floor wash to increase customer flow into a ailing business. Traditionally, the business owner would use their first morning urine, mixed with "red dust", brown sugar or another sweetener, and mop from the front of the front stoop or front door, through the shop, and then out the back door. Today's hoodoo practices now use a couple of capfuls of clear ammonia instead of urine for the same effect. Lucky 13 Clover sells red brick dust as a curio only, but we use it and it works well for us.
Order Lucky 13 Clover Spiritual Supply Co. Red Brick Dust in a personal 2oz. size or a larger 8 oz. size. Complete instructions included.
Please note: The legend, lore and usage of each product listed for sale at Lucky 13 Clover Spiritual Supply is listed on each page. Please visit our site and educate yourself in the products before ordering as we do not give free product consultations over the phone.