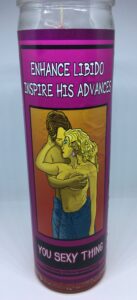 Lucky 13 Clover You Sexy Thing Candle Kit
"Tell me now baby is he good to you? Can he do to you the things that I do? I can take you higher Ooo, oh, ooh I'm on fire." – Bruce Springsteen
The Lucky 13 Clover You Sexy Thing Candle and Kit is created for when you want to incite a physical connection with another person. Not for the faint of heart, this red candle is to target the one specific person that makes you weak when they are near. This sex candle is to bring a couple closer in a new level of their relationship, to take their romance from sensual romance to sexual pleasure, or to bring an established couple back together in bed. Definitely not for the shy!
The image on the label is of a couple who are undressing and their faces show the depth of their feelings for one another. He whispers in her ear as he breathes in her scent, caressing her long, silky locks in one hand while caressing her breasts with the another. She reaches up behind her to pull him closer, closing her eyes to feel all the sensual feelings he is creating.
The Lucky 13 Clover You Sexy Thing Candle kit comes with anointing oil, and complete instructions to light a candle burning service to aid an assist in a new love and lovemaking experience into your life.
The Lucky 13 Clover You Sexy Thing Candle can be purchased in a kit only.
Enhance the feeling by anointing the candle with Lucky 13 Clover Spiritual Supply You Sexy Thing Anointing Oil and a pinch of You Sexy Thing Sachet Powder.
Burn candle within sight, never leaving candle unattended or near anything that would catch fire. Keep away from drafts. Place on a stable, heat-resistant surface. Do not touch or move candle while burning or when it is hot to the touch. Keep wick centered in glass and trimmed to within 1/4 inch of wax to prevent excessive flame or smoke. Do not let wick trimmings or other debris drop into wax.
Please note: The legend, lore and usage of each product listed for sale at Lucky 13 Clover Spiritual Supply is listed on each page. Please visit our site and educate yourself in the products before ordering as we do not give free product consultations over the phone.