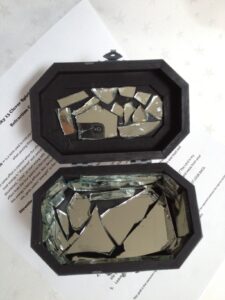 The Fractured Mirror Coffin Box* is used in mirror box spells and graveyard spell work. This wooden 'coffin' mirrored box is perfect for thwarting your enemies moves and stopping enemy work on you. Traditionally held beliefs is that when you place the photo, a paper with the name of your enemy or a personal objects such as a lock of hair or fingernail clipping, along with your petition to cease and desist, then they cannot work anything against you and their efforts will be all for naught.
Made of wood and painted in shades of gunmetal grey and black, the significance of shattered mirror pieces is that it will aid and assist in revenge work and even the coffin burial death spell.
This is for the coffin and printed spell instructions only.
*NOTE – Box will resemble coffin in photos but due to various wood box suppliers, may be different to one pictured.
This is a custom made product. We occasionally have some in stock so check with us first before ordering if time is of the essence. Please allow up to four weeks for arrival.