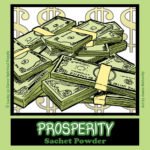 "Right here and now, my struggling end…Prosperity from now on." – Damian Marley
Lucky 13 Clover Spiritual Supply Sachet Powders are created to be used on the person or in and around the premises. These all natural, silky fine sachets can be used in dresser drawers where clothes are stored, in personal mojo or gris-gris bags, between the sheets of a bed, and as a light dusting on yourself before dressing for the day's activities or before conducting business.
Uses for Lucky 13 Clover Prosperity Sachet:
* Dist your candles when preparing for your Prosperity drawing candle ritual
* Dust your greenback dollars before spending around town
* Keep a pinch in the corners of your wallet or billfold so that every time you reach into it, your fingers will be dusted
Some dust a free-standing candle which has been previously anointed with the same condition oil to complete the blessings and dressing ritual on their candle. Some old time Southern practitioners add a pinch to hot coals in which burning incense has been placed to boost the intention or the power of the incense. These fine sachet powders are sealed in a zip-lock foil bag with colorful labels that match the hoodoo candles in each category and the accompanying condition oil to complete the trio of the Lucky 13 Clover product line.
Read more about Prosperity Products legend and lore by clicking here:
https://lucky13clover.com//how-to-use-the-lucky-13-clover-spiritual-supply-prosperity-products-in-candle-spellwork/
To order a Lucky 13 Clover Prosperity Oil to complete your ritual, please click here:
https://lucky13clover.com//store/products/lucky-13-clover-prosperity-oil/
Please note: The legend, lore and usage of each product listed for sale at Lucky 13 Clover Spiritual Supply is listed on each page. Please visit our site and educate yourself in the products before ordering as we do not give free product consultations over the phone.