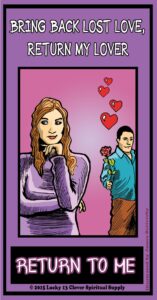 Lucky 13 Clover Return to Me Candle Kit $13.00
"Y volver, volver, volver…" – Vicente Fernandez
The Lucky 13 Clover Return to Me Candle Kit is used when you want to resume or rekindle a relationship that may have took a wrong turn. Burn this pink candle for a lost love.
The image on the candle is of a young couple who have had a disagreement and the gentleman is offering a rose, the classic symbol of true love, to his sweetheart, so that she will consider returning to his waiting arms. She is pensive, but her little smile is telling us that eventually, she cannot resist her man, and will return to his arms once again.
It has been said that the more clear of an image that you can envision for your outcome, the more successful the candle can aid and assist in the results desired. Meditate on this image and see yourself in the characters in the label and chant or pray for the intervention of the Angels and Saints to bring them back to you.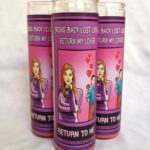 Uses for the Lucky 13 Clover Return to Me Candle:
* Burn immediately after a fight to assist in restoring loving feelings
* Light this candle when your loved one will be traveling
* Uses to support and boost a lagging love relationship
The Lucky 13 Clover Return to Me Candle Kit has one pink candle, an application of  anointing condition oil and complete instructions to burn this candle to aid and support you in your love relationship needs.
The Lucky 13 Clover Return to Me Candle can be purchased in a kit only.
To order Lucky 13 Clover Return to Me Oil to complete your ritual, click here:
https://lucky13clover.com//store/products/lucky-13-clover-return-oil/
To read about the traditions and uses of Lucky 13 Clover Return to Me products in candle spellwork, click here:
https://lucky13clover.com//how-to-use-the-lucky-13-clover-return-to-me-products-in-candle-spellwork/
We use nut oils in our products, which may include almond, sunflower,  peach kernel, olive, and other nut oils, or a blend thereof, which may be of a concern for some who have allergies to such products. We do not use synthetic items in our products.
Burn candle within sight, never leaving candle unattended or near anything that would catch fire. Keep away from drafts. Place on a stable, heat-resistant surface. Do not touch or move candle while burning or when it is hot to the touch. Keep wick centered in glass and trimmed to within 1/4 inch of wax to prevent excessive flame or smoke. Do not let wick trimmings or other debris drop into wax.
Please note: The legend, lore and usage of each product listed for sale at Lucky 13 Clover Spiritual Supply is listed on each page. Please visit our site and educate yourself in the products before ordering as we do not give free product consultations over the phone.