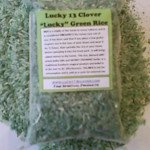 Lucky 13 Clover "Lucky" Green Rice Money Drawing Floor Sweep is a traditional hoodoo and conjure staple user for attracting Good Luck for matters of money drawing into a home or business. This rice, tinted green and infused with herbs, actual shredded greenback dollars and other traditional Southern ingredients allegedly held to have money drawing qualities, is to be worn (just a few grains) in the toes of your shoes for three days, then sprinkled on the floor of the home and swept out onto the yard or front porch if at home, or a walkway or wherever customers will pass if you have a business. The aroma of the herbs, roots and spices in the mix will create a warm, inviting fragrance that will get the attention of customers.
Many cultures around the world consider rice as a staple in their diet and to have a home without rice is akin to poverty. Many Asian homes have rice stored in a ceramic covered jar, utilizing Feng Shui methods of the Earth element, to ensure the family will be without money and food. Many Southern states also rely on rice as a cash crop, and this is the theories that support the making of Lucky 13 Clover "Lucky" Green Rice Money Drawing Floor Sweep. Using grains, herbs, spices, roots and more in the cleaning of a home or business has long been held as a method of changing the energies of the building to take away negativity and attract positive qualities and to attract a constant stream of prosperity to them.
This 8oz. bag will last you approximately three months of weekly money drawing rituals and even though Lucky 13 Clover sells this as a curio only, we use it and have had much success. "Lucky" Green Rice is not for human consumption.
Please note: The legend, lore and usage of each product listed for sale at Lucky 13 Clover Spiritual Supply is
listed on each page. Please visit our site and educate yourself in the products before ordering as we do not give
free product consultations over the phone.