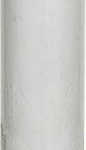 WHITE CANDLES – usually used for secret spiritual work; can stand in for any color 'in a pinch'.
Lucky 13 Clover Spiritual Supply 7 Day Unlabeled White Candles in Glass are for spiritual work and candle devotions without the possibility of discovery by others.
Some folks want to burn their candle novena vigils in their home but fear discovery by members of the family or visitors. Because they do not want their business publicly known, Lucky 13 Clover offers unlabeled single colored candles that are NOT prepared with oils, but can be anointed and dressed to each person's desire. Most people like to burn their candles continuously once they have lit them, but if certain fire-safety concerns arise, then gently snuffing them out with a candle snuffer and then re-light them with a long-neck lighter.
Burn candle within sight, never leaving candle unattended or near anything that would catch fire. Keep away from drafts. Place on a stable, heat-resistant surface. Do not touch or move candle while burning or when it is hot to the touch. Keep wick centered in glass and trimmed to within 1/4 inch of wax to prevent excessive flame or smoke. Do not let wick trimmings or other debris drop into wax.
Please note: The legend, lore and usage of each product listed for sale at Lucky 13 Clover Spiritual Supply is listed on each page. Please visit our site and educate yourself in the products before ordering as we do not give free product consultations over the phone.